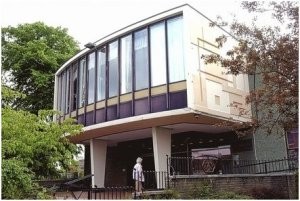 The name Biddulph came into this country at the time of the Norman Conquest in 1066. Biddulph originally referred only to the area around St. Lawrence's Church and the Grange. What is now the town centre was formally known as Bradley Green. Biddulph today encompasses the former villages of Brown Lees, Gillow Heath, Knypersley, Bradley Green and Biddulph Moor. Biddulph Urban District Council, first established in 1894, was dissolved in 1974 when Staffordshire Moorlands District Council was formed.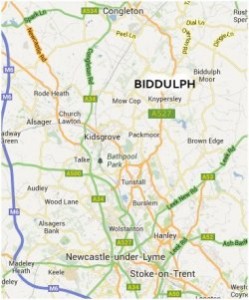 It is situated on the north-west corner of the County of Staffordshire, in a valley and surrounded by hills rising to over 1000 feet. The Biddulph Valley was once a heavily wooded area,clearances made way for agriculture but the land initially remained poorly drained and unproductive, further improvements enabled the land to be farmed for cattle and dairyproduce. Up to the beginning of the 19th century it was still an isolated place there being little communication with the outside world. The coal measures and iron ore deposits lying beneaththe surface were the catalyst to change this.
Although Biddulph is now largely a residential commuter area for the Potteries, Congleton and Manchester it was once an independent productive and thriving industrial area producing iron, coal and textiles. The exploitation of its valuable rock strata brought the Industrial Revolution to the Biddulph Valley and the arrival of the railway connected Biddulph commercially with the rest of the country. Wrought iron from Biddulph was used in the construction of the Menai Bridge, recognition of its excellent quality. In 1912 and 1921 the Biddulph Iron Works was the largest producer of iron bar in the world. The company was closed in 1928 although commercial activity continues on the site. Victoria Colliery ceased production in 1982.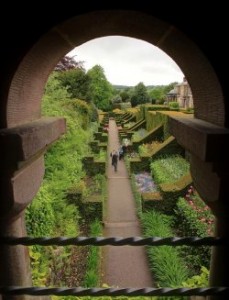 In recent years the National Trust has made Biddulph famous following its sympathetic restoration of the Grange Garden, a Victorian creation of James Bateman, individual areas uniquely representing China, Japan, Italy, Scotland and Egypt. A Dahlia Walk, an intriguing Cheshire Cottage and a Woodland Walk ensure something of interest throughout the year.
St. Lawrence's Church has a history going back over 800 years; the bottom of the tower is the only part going back to these times. In 1534, it was largely rebuilt and again in 1835 the Bateman family extended the church, gave new stained glass and a new oak pulpit. Robert Heath had a special chapel created in 1872 to commemorate his eldest children. It can be seen to the right of the chancel. He also gave six inscribed bells to the church which still ring out a prayer of good wishes over the valley.
Thanks to Jim Davies (Staffordshire Moorlands District Council) for this information.