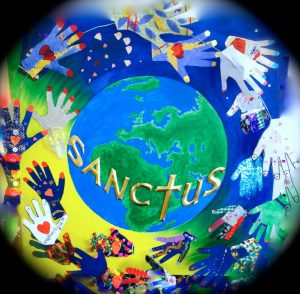 As a church, we support SANCTUS which in turn supports asylum seekers and refugees in and around Stoke-on-Trent.
Since August 2022, SANCTUS has combined forces with North Staffordshire YMCA.
SANCTUS aims to walk alongside people who find their way to this area from all around the world, in a non judgemental and safe environment. At its Thursday Drop-in in at the YMCA in Hanley, it welcomes women, men and children, of all faiths and none.
In conjunction with the YMCA, Sanctus runs a foodbank (The Pantry) and distributes food to a number of families and individuals. It also operates a Help Desk.
At St. Lawrence's, the main support for SANCTUS is by buying and giving essential items from the following list:
food – all basic foods (tins, packets or dried – not fresh or perishable
baby wipes
toothbrushes
toothpaste
deodorant
shampoo
shower gel
razors
soap
shaving cream
sanitary towels (not tampons)
size 5/6 nappies
Small items can be placed in the box near the West Door at the back of church before or after church services. Items may be left at other times by contacting the church office.
Alternatively, if you have an item you'd like to donate, but can't deliver it yourself, please contact our church office.
You can read much more about SANCTUS HERE.
Thank you for your support.