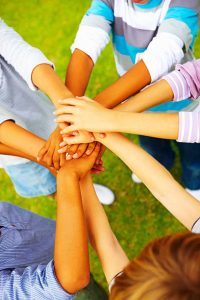 We feel passionately that everyone is part of the church family and so children and young people are welcome to all of our services.
Our 11 o'clock service, on Sunday mornings, is particularly well geared up for children of any age.
For parents of babies and very small children, there is a play area situated in the body of the church, usually on the right. There are toys and games to entertain babies and toddlers. You are welcome to feed your baby anywhere in our church without feeling embarrassed. And when the inevitable happens and you have a screaming child, please don't worry, we're very used to noise during our 11am service. Nappy changing mats are available in the toilet area and if you bring a push chair, you are welcome to put it anywhere, but the south porch is usually the best place.
For school age children our Sunday morning groups are at 11am, meeting in the church hall to explore what it means to have Jesus as our Saviour and Friend. The groups will last for about 40/45 minutes and then join those in church for a time of sharing and worshipping together. If your child/ren would like to join our groups but you are unable to attend church then feel free to bring them to the church hall and then pick them up from church around 12 noon.
The second Sunday of each month will be an Altogether Service in church, 11am to 12 noon, where those children who wish to will take an active role. There will be no children's groups in the church hall.